Table of Contents
Hello my dear penfriends,
For anybody new here and perhaps forgot they subscribed, my name is Mitch and you're reading Dialogue. A monthly newsletter that's mostly about photography, walking, exploration, and other related stuff. Hopefully, that's right up your alley but if it isn't, unsubscribing is one click away at the bottom of this missive. I'm writing you from the other side of a very hectic month. I need to collect my thoughts for a second. Please bear with me.
Between trips to Barcelona and Berlin, a roof that somehow keeps leaking, a day job in which I'm constantly trying to outperform my past self, and suboptimal sleep because I'm always overwhelmed, I also managed to finish a book and send it to press. Also, I'm not even talking about AI quickly taking over the world. Which doesn't necessarily concern me, but is something I'm keeping a watchful eye on. Have you seen how photorealistic these results are already?! There are not enough hours in a day to process it all.
Most of all this stuff happening is good, though! Very good, even, and I'm grateful for it. I want to travel as much as possible to shoot photos. I want to work on personal projects and make books. Though I could do without the leaky roof and lack of sleep, I'm still very happy with the direction my life is heading towards. That's not to say it all comes easy. Most of it, I had to go through on sheer discipline because the motivation wasn't always there. First things first though, that book I so casually referenced above.
The Efflorescence
I talked about the Efflorescence, or 'de Ontluiking' in Dutch, briefly before, but I've significantly undersold the magnitude of the project since. I have been working on this long-term photography project for the past two years, documenting club- and festival culture during and after the pandemic. It's a co-production with my pen-bearing mate Thijs Tomassen that took us to many places back- and front stage, where we talked to partygoers, organizations, artists, and social scientists alike. If that sounds like a mouthful then that's because it is. The book we sent to the printer just a couple of days ago is the culmination of endless hours of self-funded research, travel, interviewing, and photographing the people we deemed vital to tell this, hopefully, once-in-a-lifetime story.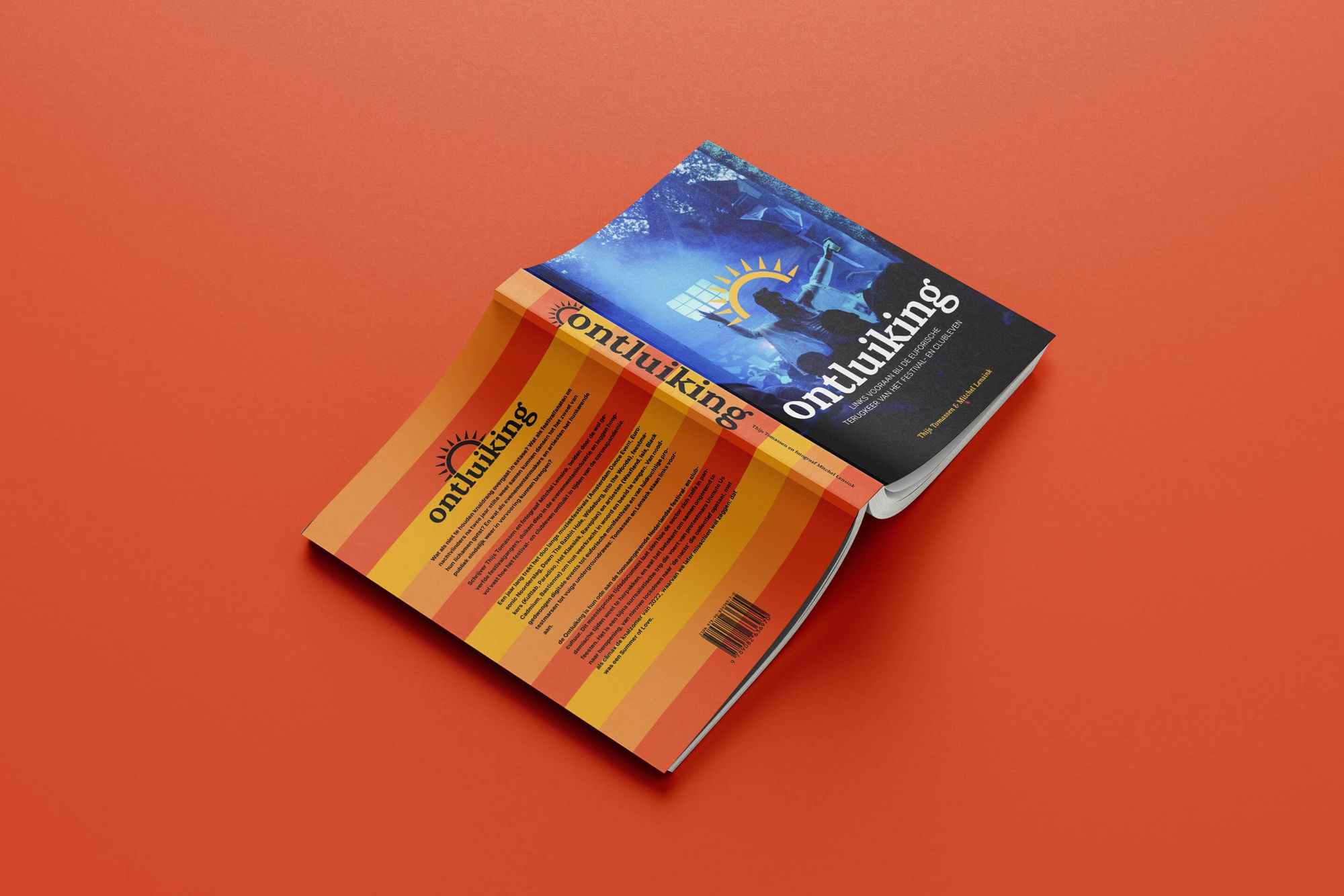 The truth is, I could've filled each new issue of Dialogue with nothing but information about this project, but I didn't want to dilute the other work I'm sharing here as well. The book rolling out of all this work is my first official book though, and that's not nothing! In fact, it's everything that matters right now. I can't wait to have a book like this to my name. Partly because it's cool to be able to call myself a book author (apparently, photographers technically are authors too), but mainly because a book serves as a proxy, in the form of a tangible object, for all the work that's been done. A book turns all the hard, costly, economically unviable work from possibly wasted energy into something that was suddenly all worth it. 'De Ontluiking' is the longest personal project I've done so far, and I'm happy we are in the stages of wrapping it up the way we do.
Now, I know I sound like I'm trying to sell you something, which I sort of am, but there is one caveat. The book is written in Dutch and I guess most of you won't be able to read it. While photographs have no language and can be consumed by everybody, I know this is a tough sell if you're missing out on the other half of the book's content. To somewhat make up for this, we are considering an eBook version, which will allow you to auto-translate the text. Because while the stories are centered around Dutch events, the general message is the same across the world: even in dire times, it's possible to show resilience and continue doing cool stuff. The book comes out on April 29th, and it's currently available as a pre-order. Well then, let's talk about some other things that happened this month.
60 hours in Barcelona
My Apple Watch violently taps me on the wrist, waking me from a light slumber. I always have trouble sleeping when I'm traveling the next day. This is especially true when I need to get up early to travel, when it's most important to get a good sleep, but also when I'm leaving a little later during the day. The latter is a little less painful though; luckily, that's the situation for today. It's somewhere between 2 and 3 PM when I gaze out of the plane window on my way to Barcelona for the first time in my life.
Don't feel like reading? Watch the video instead.
This trip is a little different from others because I'm going with co-workers. We're celebrating the 10-year anniversary of the company and are attending a convention that's related to our business as well. It's a two birds one stone type of arrangement and I'm not complaining, at all. Traveling with co-workers is interesting though. Because while we're all very friendly with each other in the office, you never know how those dynamics hold up outside of the usual context. On top of that, I had the extra layer of traveling outside the country without Charlotte (my girlfriend) for the first time in… forever? In some way, it makes me feel like I'm traveling alone, despite having 12 other people around me.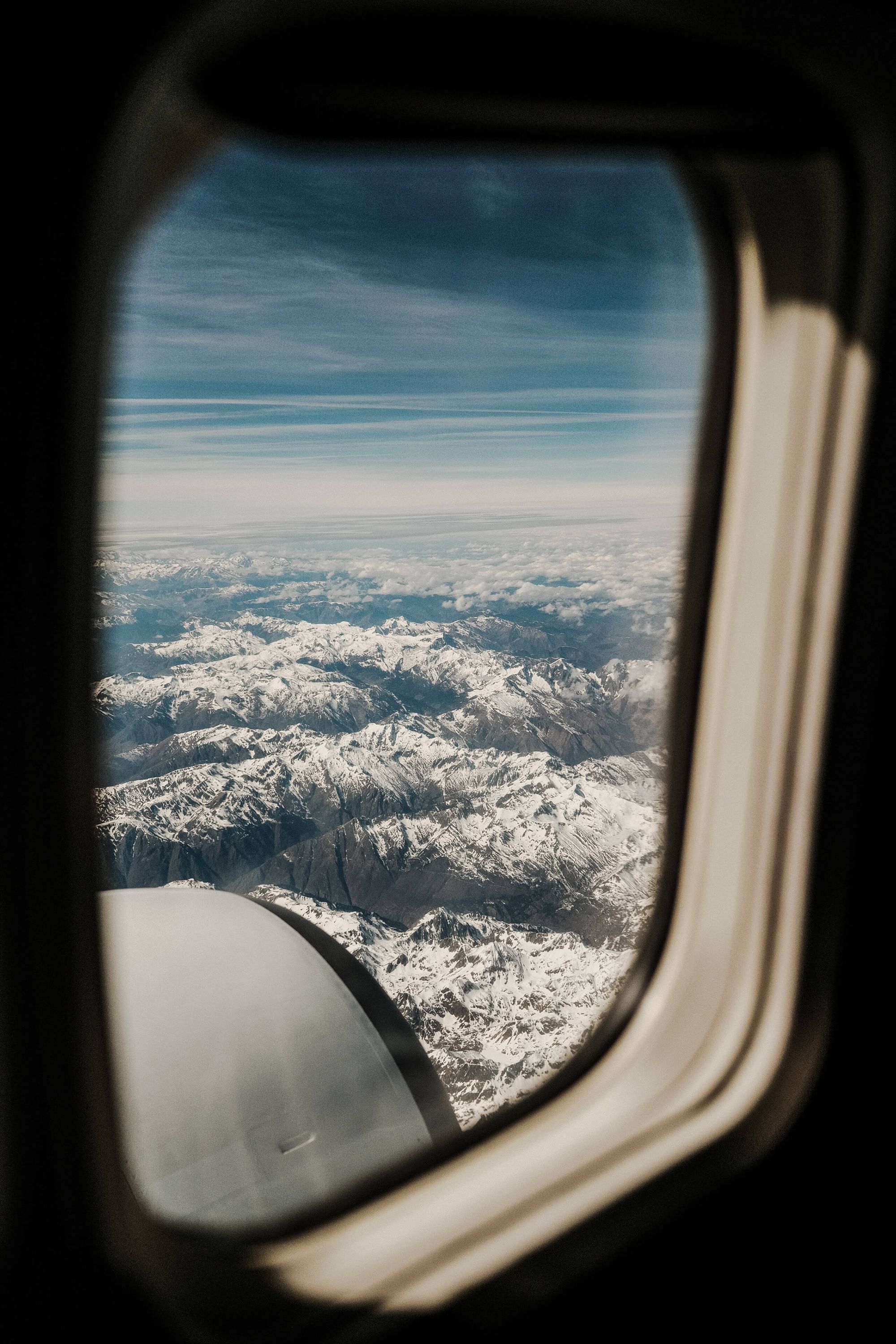 We land at Josep Tarradellas Barcelona-El Prat Airport a little past 4 PM, and our transportation to the hotel is already waiting for us. I've snapped a few photos out of the plane's window, but this is when my Fuji X100V comes out of the bag indefinitely. I also start a GPS recording that I'll leave running for the entirety of the trip, so I can later match that data with my images. I like having all this data because it allows me to pinpoint where I've taken each image exactly. Plus, it's cool to see all my photos spread out over a map (loads a little slow so click at your own risk). I can just sit and stare at it while letting the memories take me on a ride. During the trip it, unsurprisingly, turns out most of my time is taken up by the convention, excessive dinners, and late nights in bars, but I do manage to sneak out on my own for a photo walk or two.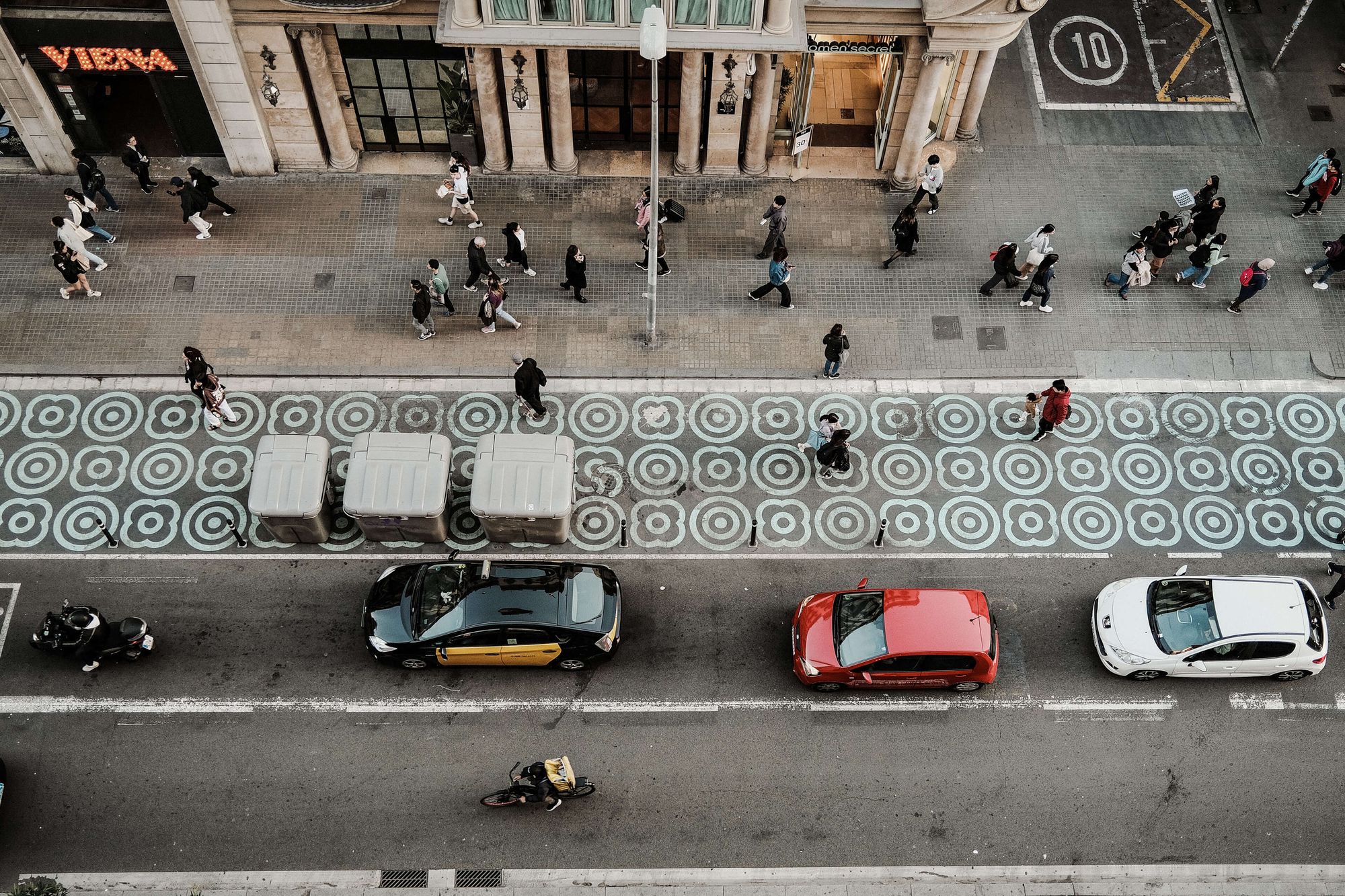 Since this is my first time in the city, I have to go off recommendations I received from some kind people at Glass. The recommendations take me through the Gothic Quarter, briefly touching the Carrer del Bisbe, all the way to the ocean, where I don't quite make it to the beach, and back to Plaça de Catalunya, where our hotel is located. I then pop over to Eixample, with its famous grid pattern, and navigate my way to La Sagrada Familia because how can I not on my first visit here? It's 4 PM on Sunday when I turn off my GPS tracker and return the X100V to storage again. It's been a good trip.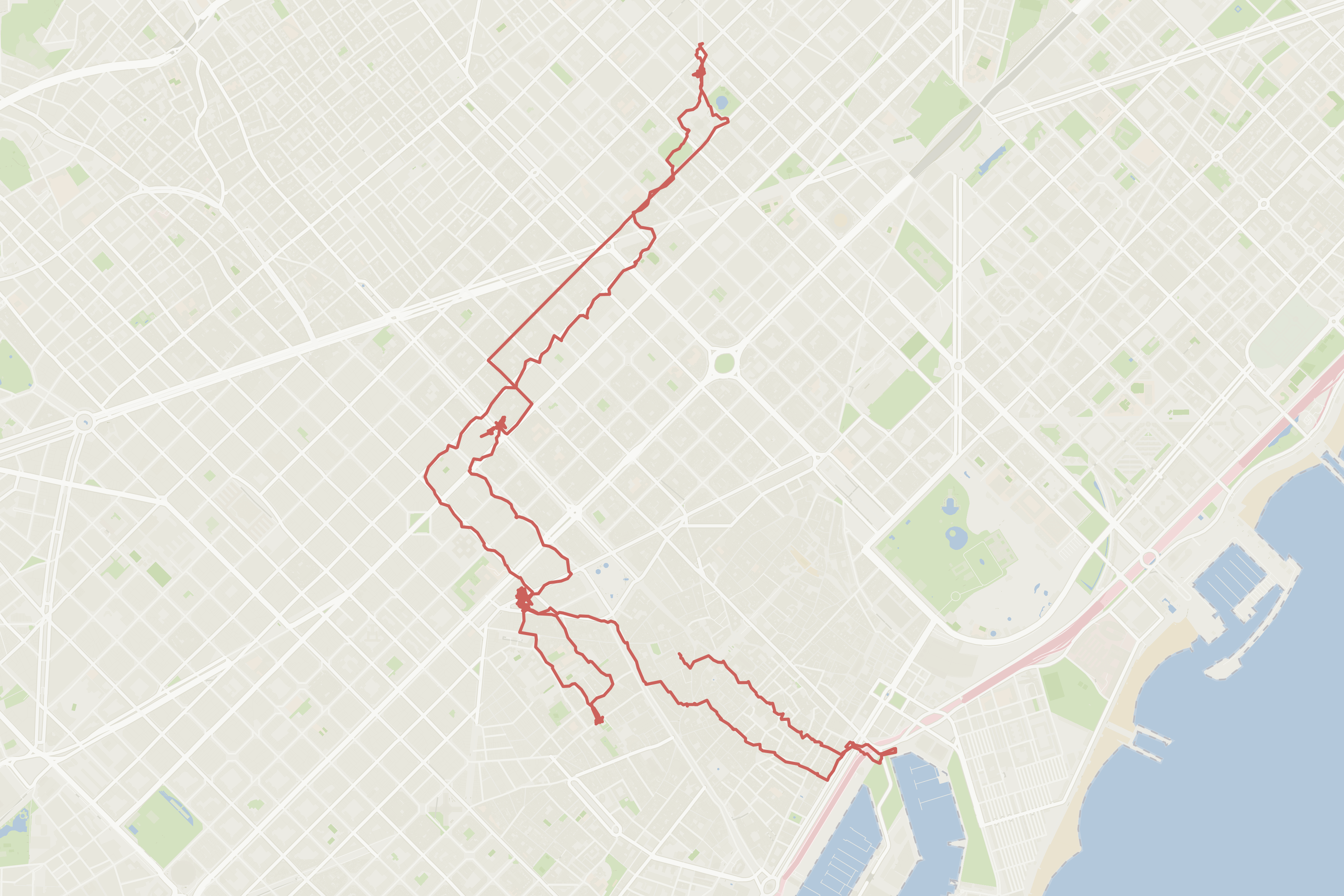 Berlin calling, again
A couple of weeks pass where I do relatively little photography. I primarily focus on the final rounds of revision for the Efflorescence book. Sitting at home doesn't pay the bills though and I'm always wanderlusting for more exploration. It's the 23rd of March, 5:30 in the morning when I text my friend Rafaël, known as HEYTAGMIJ on Instagram. 'Are you awake as well,' I send him. 'Of course,' he replies. A few hours later I'm hanging in the air again, on my way to Berlin.
Contrary to Barcelona, Berlin is a city I'm actually very familiar with and have visited many times before. The most recent time was May last year, not even a year ago. The difference between this trip and the previous ones is that photography is now the star player of the show, and tourism comes in second place. This has always been the other way around, but since Charlotte had to stay at home the second time this month (sorry babe), and Rafaël being as much a photo-fanatic as I am, everything we would do during this trip would be in service of the images.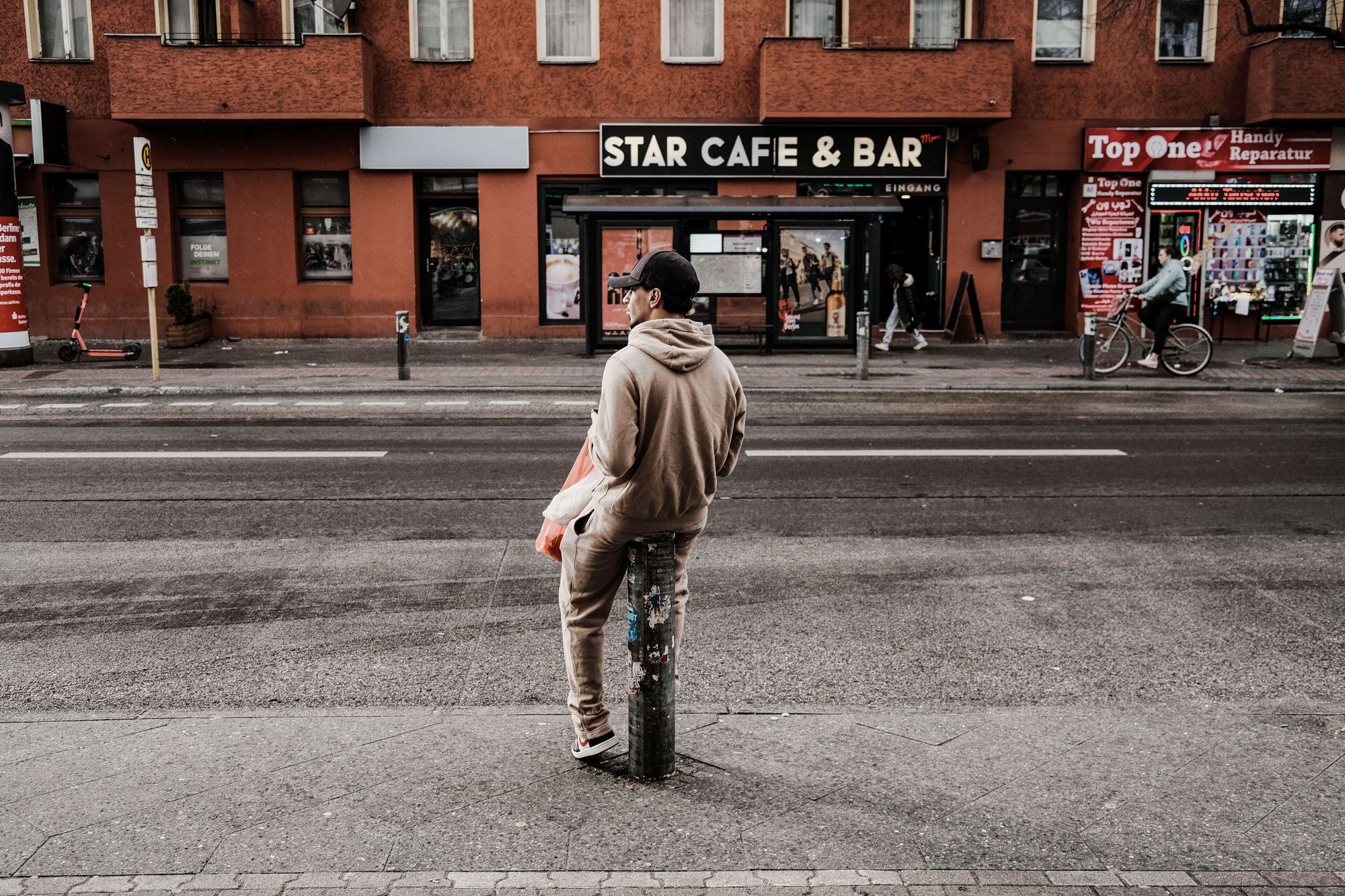 And servicing we do. Still used to our daily rhythms from home, we wake up each day around eight o 'clock-ish. No matter what time we went to bed the night before. You can imagine how we felt on the last day. On the first two days, we walk a collective 40 kilometers, with the second and third day a more easygoing 12 to 17 kilometers. I close the rings on my Apple Watch twice each day though and still have the energy to spare to photograph and film everything. The whole trip is invigorating in a way I don't quite experience when I'm out shooting at home.
Meetups and surprises
Again, I asked for recommendations on Glass and Phil, a Berlin native, came through with the goods. His recommendations take us from Friedrichshain, where our hotel was located, to Alexanderplatz, on the way passing by East Side Gallery, from which we make our way through both the Museum Island and the Government District of Berlin. Not necessarily the most enjoyable places if you want to do touristy stuff, other areas are much more atmospheric, but a photographic gold mine if you know where to look. On the third day of our trip, we join forces with Phil to explore the area west of Tiergarten (I still don't know what it's called). I hadn't been before, and Phil usually skips over it as well, so the area was a journey of discovery for all of us. We all shoot a few bangers on the Kurfürstendamm but find ourselves thirsting for some Wegbier. There isn't any to be found in the fancy area we're in, so there's nothing much we can do but hop on an ever-overcrowded U-Bahn to Kreuzberg. A place where misfits traditionally unite but these days is just as much overrun with pretentious hipsters like ourselves. We enjoy a beer or two while sitting in front of a Späti (a night market you find all over the city, kind of like a Bodega in New York, I guess?). Which is a little different from the Wegbier we set out to do but tastes just as nice, and we say our goodbyes to Phil afterward. If you're reading this, thanks for meeting and showing us around Phil! We really appreciate it.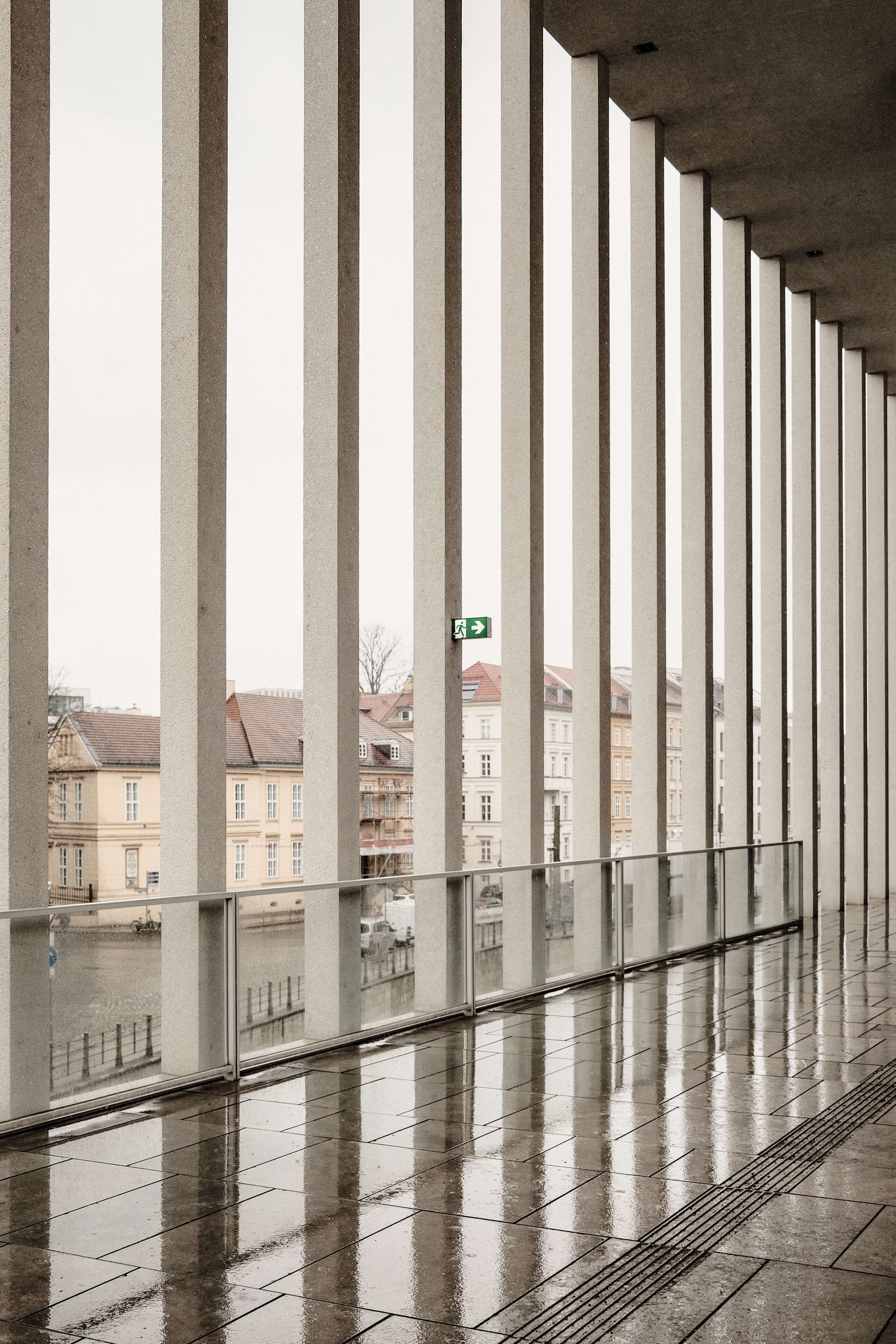 It is then we find time to surprise the friend I ran into last time again, by luring them out onto the street with an excuse Rafaël came up with. We almost can't believe our eyes when they buy the lie and suddenly emerge on the road before us, admittedly looking somewhat annoyed for dragging them out of work like this. The annoyance swiftly makes places for disbelief and amazement soon as we jump up in front of them, and all is well again in the world. The jig is probably up with these surprise visits though, so I think I'll have to let them know next time I'm in the city, like a normal person. Our Berlin trip ends with a visit to the Mauerpark, where we finally have that Wegbier, before preparing ourselves for our flight back.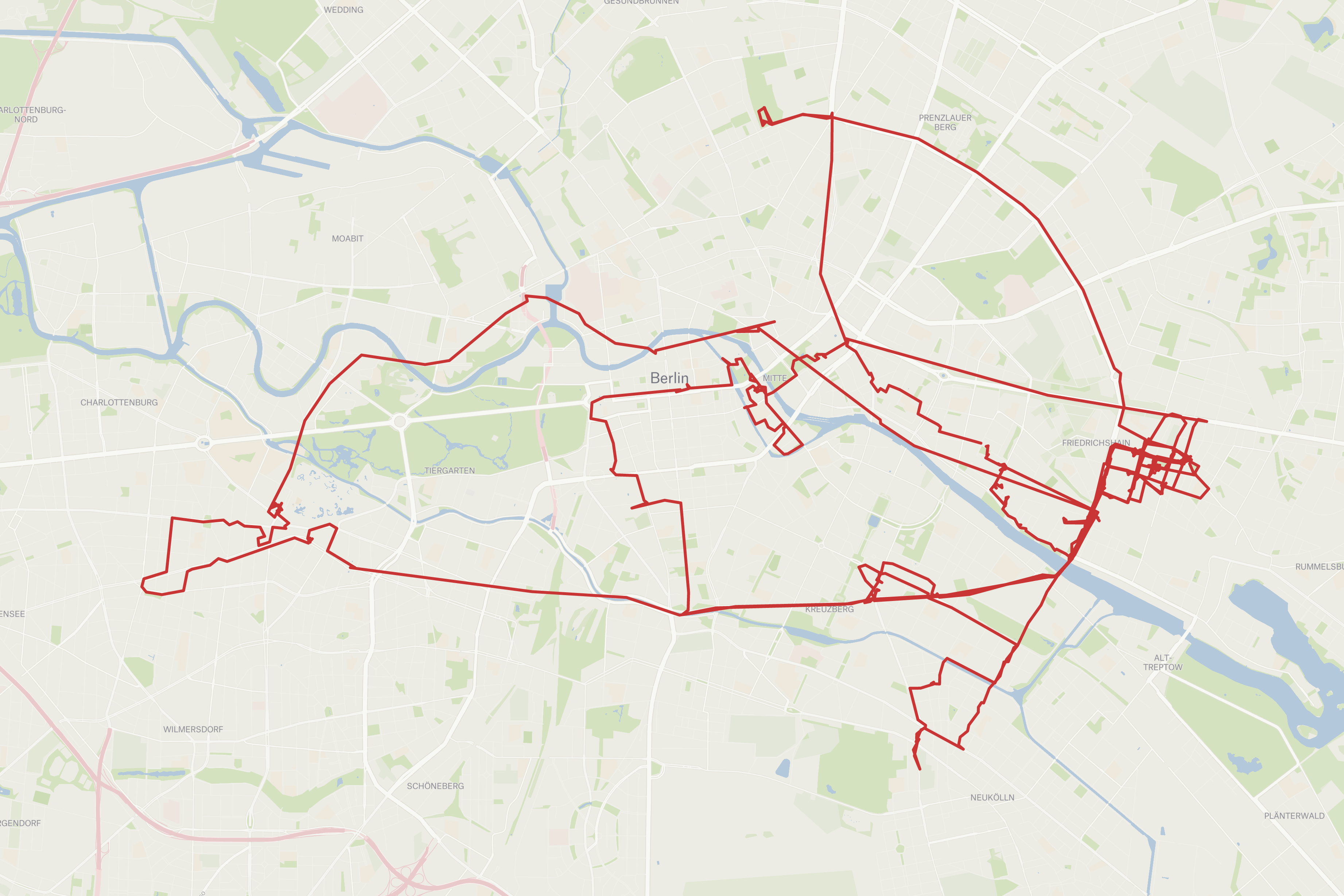 Onwards
The upcoming month is looking to be just as hectic as March. With trips to Eindhoven and Ghent, and a release party for the book on the 29th that requires a lot of planning. People that pre-ordered the book are, of course, welcome to join, and others are welcome just as much in the hopes they leave with a book at the end of the night as well. I'll report back on how this all went next month! For now though, it's time to wrap it up. Thank you all for reading my, again way too long, recap of last month and we'll catch up again soon.
Cheers,
Mitch